Concrete Patios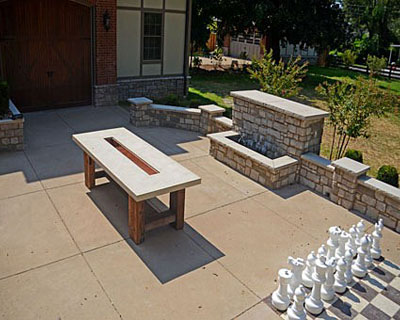 Patio installations are a very popular outdoor feature. They become a great place to relax and spend time with friends and family members. These installations are largely exposed to the elements and it's important that resilient and durable materials be used in the project. Concrete is a very strong and durable material and it's why we recommend to our customers that they consider concrete patio installations for their home and commercial establishments.

We at Paradigm Concrete Design are experts in this industry and have built a very strong customer base in and around Franklin, Brentwood, Thompson Station, Nolensville and Fairview. In the recent past we have also handled a significant number of concrete patio projects for customers across Spring Hill, Columbia, Nashville, Murfreesboro and Green Hills
Concrete Patio Ideas
We understand that every customer has different requirements and so we work very closely with you to understand what your preferences are. Based on our initial consultation with you, we will provide concrete patio designs and ideas, provide complete information about how the installation will be done and which materials and finishes will be used in the work.
Expert Concrete Patio Installation
Getting a concrete patio built represents a significant expense and it's important that you choose experienced patio installers for the job. We have proved our expertise in this space and there are a number of reasons why you should opt for our services:
1. Expert Skills
We have a great deal of knowledge and experience in this space and can create concrete patio floors that emulate the appearance of natural stones, which are far more expensive materials. We use techniques such as stamping and staining and create stunning outdoor spaces on your property.
2. Experienced Team
We have unmatched expertise in this space and can design and install great concrete patios. On board are highly-experienced builders and expert masons and you are assured that you will receive high-grade installations from us. We can handle even the most complex custom patio projects in a very competent manner.
3. High Quality Materials
We provide end-to-end patio design and installation solutions and procure the best materials ranging from masonry materials to various amenities including furniture. When you hire us for the job, you are assured that every product is from the most reputed and well-established manufacturers in the country.
4. Competitive Concrete Patio Cost
We understand that every homeowner has a specific budget that they have allocated for a particular feature and we make every effort to provide solutions that fit into your budget.
Creating outstanding custom concrete patio installations is a job that only an experienced company can handle. You only have to call us with your request and our experts will come over to your location to discuss your project details with you.
We Provide Services to the Following Cities and Towns in KY: